Lymphoma, myeloma and leukaemia are serious but treatable diseases requiring high quality specialist treatment. The Brisbane Clinic for Lymphoma, Myeloma and Leukaemia based at Greenslopes Private Hospital is a medical clinic devoted to the diagnosis, management and research of these and closely related conditions such as myelodysplasia, amyloidosis and bone marrow failure. The Brisbane Clinic for Lymphoma, Myeloma and Leukaemia was established by Dr Andrew Nicol, a leading specialist in these and related blood disorders and cancers.
The clinic structure ensures rapid access to specialist haematology-oncology care as soon as the diagnosis is suspected. When other specialists such as surgeons, anaesthetists, heart, kidney or lung specialists are involved to assist with the diagnosis or treatment, The Brisbane Clinic for Lymphoma, Myeloma and Leukaemia ensures patients are referred to only the leaders in their respective fields and are seen quickly to avoid any delays. When hospital treatment, such as chemotherapy, is required, this is administered in Brisbane's foremost day therapy unit: the Cyril Gilbert Cancer Centre.
Dr Nicol and the Clinic staff have many years experience in the support of patients with these potentially serious conditions and provide a relaxed, friendly and welcoming environment. Our staff can provide advice on a range of practical issues including information about the hospital, transport and parking, accommodation for patients from outside Brisbane, where to find other services such as pharmacy and X-ray, and what to expect from your investigations or treatment. Our specialist haematology-oncology nurse provides support in all aspects of chemotherapy and other treatment required.
Dr Nicol can be directly contacted by phone (3324 1233), fax (3394 4266) or by e-mail (see contact information). Referring GP's or specialists can contact Dr Nicol directly via these numbers or through the Greenslopes Private Hospital Switch Board.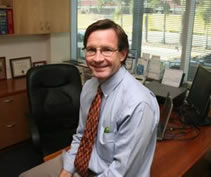 Dr Andrew Nicol
MBBS (UQ), PhD, FRACP, FRCPA
Clinical Haematologist and Haemato-oncologist
Clinic Staff: Clinic staff include an experienced haematology-oncology nurse, clinical trial research staff, reception and administrative staff, a dietitian (Sophie Walsh) and exercise physiologists. Our clinic staff can be contacted (9am-5pm weekdays) on 3324 1233 or via email (see contact page). We can also provide non-denominational pastoral care and have a clinical psychologist to provide counselling and support in a range of areas.