About Dr Nicol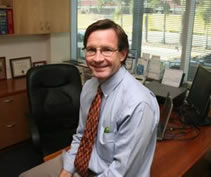 Dr Andrew Nicol
MBBS (UQ), PhD, FRACP, FRCPA
Clinical Haematologist and Haemato-oncologist
Andrew Nicol is a Haematologist with special interests in lymphoma, myeloma and leukaemia.
After studying medicine at the University of Queensland, Dr Nicol trained in haematology at the Princess Alexandra Hospital, the Royal Brisbane Hospital and in the UK where he received a PhD for his research related to stem cell transplantation for haematological malignancies. Dr Nicol is a Fellow of the Royal Australasian College of Physicians, a Fellow of The Royal College of Pathologists of Australia and, in recognition of his contributions to haematology, is a Member of the American Society of Haematology.
After completing his specialist training in haematology and haematopathology, Dr Nicol worked as a consultant haematologist at Princess Alexandra Hospital and Royal Brisbane Hospital before establishing the Brisbane Clinic for Lymphoma, Myeloma and Leukaemia based at Greenslopes Private Hospital. He established the Clinic so that patients with these disorders can be managed in a private sector unit dedicated to diagnosing and treating patients and to facilitate the availability of new treatments through clinical trials.
Dr Nicol was the long running Chairman of Haematology and Oncology at Greenslopes Private Hospital and Director of Stem Cell Transplantation at Greenslopes in which role he played a significant leadership role in the hospital including nurturing junior doctors at the hospital and in providing education for GP's.
In his previous role as Director of the Centre for Immune and Targeted Therapy, Dr Nicol was involved in research on how the immune system and other non-toxic therapies can be used to treat lymphoma, myeloma and other conditions. He has been awarded prestigious research grants from the NH&MRC, the Queensland Cancer Fund and the Leukaemia Foundation and has attracted funding from international pharmaceutical companies. Dr Nicol's research is published in major international journals read by scientists and haematologists around the world.
In addition to seeing patients at the Brisbane Clinic for Lymphoma, Myeloma and Leukaemia at Greenslopes Private Hospital, Dr Nicol holds regular clinics at Cleveland/Redlands and in Gladstone. Dr Nicol has facilitates to undertake Video consultations for patients in remote areas and provincial towns and these videoconsultations are all bulk billed and can be done from your own home.
Dr Nicol can be directly contacted by phone (3324 1233), fax (3394 4266) or by e-mail (anic9909@myhaematologist.com.au).
(See contact information)
Referring GP's or specialists can contact Dr Nicol directly via these numbers, through the Greenslopes Private Hospital Switch Board (3394 7111) or on his mobile (0418871615).